What is a Virtual Gauge?
What is a Virtual Gauge?
In the Mekong Dam Monitor, The Stimson Center's Southeast Asia program research team introduces the concept of a "virtual gauge," a novel approach to river monitoring with significant implications for data transparency and decision support in the Mekong and for bodies of water all over the world. Virtual gauges provide estimates of water level for a rivers, lakes, or reservoirs where in situ – physically collected data – is absent – or where data is measured but not shared with stakeholders.
The Stimson team uses Sentinel-1 imagery and GIS processes to determine an estimate for which a validation model shows the margin of error is +/1 meter. For more information, refer to the monitor's methods and processes page.
In the Mekong Dam Monitor, virtual gauge estimates inform time series data showing change of reservoir and river level over time. They also inform the reservoir shape tab which shows how the area of reservoirs change at different estimated levels. Virtual gauge estimates are also fed into the Lancang Cascade analysis which for the first time ever provides insight on how China's upstream dams are operated as a system and change the hydrological flow of the Mekong Basin. Virtual gauge estimates are supported and corroborated by comparative satellite images available for viewing on the monitor. Finally, virtual gauge estimates provide much evidence to support findings of Eyes on Earth's natural flow models.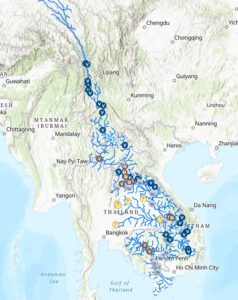 The monitor's home page displays an interactive map showing the locations of the platform's 31 virtual gauges which link to information about those gauges. The map also links to other data on physical gauges provided by the Mekong River Commission, Thailand's EGAT, Laos's EDL-Gen, and China's Lancang Mekong Water Resources Center. When taken as a whole, this interactive map acts as a single window into water availability, river level, and major dam operations throughout the Mekong Basin.
What is a Natural Flow Model?
What is a Natural Flow Model?
Eyes on Earth uses its natural flow model to show how much water should be in the Mekong mainstream under natural flow conditions compared to the Mekong River Commission Gauges at Chiang Saen, Thailand and Vientiane, Laos. The models use data collected through Eyes on Earth's Wetness Index to show how the river would naturally flow if upstream manipulation were not occurring. The model is calibrated through selecting years when the Mekong flowed with zero to minimal regulation from upstream dams. The Chiang Saen model explains 90% of the variability in the river and the Vientiane model explains 87.5% of the river's variability.
Actual flow volumes are measured at MRC gauges at Chiang Saen Thailand and Vientiane, Laos. This data is laid atop the Eyes on Earth model of expected natural flow volume at the same point.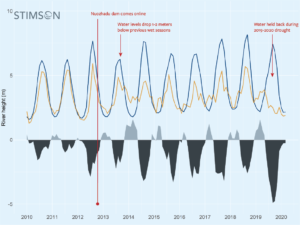 When the lines diverge, it means something upstream, likely dams, is altering the Mekong's natural flow. Other man-made factors could contribute to divergence such as evaporation from large reservoirs, irrigation and other uses of water supply, but these factors contribute much less change to natural flow than the 11 mainstream dams and scores of tributary dams on the Mekong upstream in China. 
If the blue line is above the orange, then less water than expected is flowing through the river. If the orange line is above the blue, then more water than expected is flowing through the river. A surplus or deficit of water is demonstrated by the shaded portions of the graph. For more information on the natural flow model, please refer to the Mekong Dam Monitor's methods page.
Indicators and Outputs
Weekly updates of high-resolution satellite images (10-meter Sentinel imagery) of all 13 completed dams and reservoirs on the Mekong mainstream in addition to 13 tributary dams with power generation capacities greater than 200 MW.
Weekly reservoir level (meters above sea level) readings and operation curves of those dams
Weekly visualization and analysis of China's 11 dam cascade on the upper Mekong.
High resolution images and hydrological analysis of four key downstream impact areas of interest. 
Visualization of natural flow model data compared to two Mekong River Commission gauges at Chiang Saen, Thailand and Vientiane, Laos
Maps and data to show variations in surface wetness, temperature, snow-cover and precipitation for the entirety of the Mekong basin
Descriptive data on all dams and reservoirs planned, under construction, and completed in the Mekong Basin (500+)
Objectives and Anticipated Outcomes
Ongoing, transparent, and evidence-based monitoring of Mekong mainstream and major tributary dam operations and downstream hydrological impacts (alterations to hydrological flow).
Strengthen capacity among stakeholders to apply independent quantitative measurements of expected natural water flow in the upper river basin increasing their capacity for negotiation, transboundary river governance, and autonomous decision making.
Increase capacity to anticipate environmental and social impacts of dam operations.  
Increase knowledge of the benefits of natural river flow, improving opportunities for broad conservation of the Mekong's natural resource provisions and greatly reducing risks to ecological breakdown in the Mekong.
Provide evidenced-based data to counter inaccurate statements about the condition and operation of dams and reservoirs and water flow in the Mekong Basin.
Engagement and Educational Opportunities
Through additional support and new partnerships, the scope of the Mekong Dam Monitor can easily scale to examine other dams and landscapes in the Mekong Basin. Further, its methods can be applied to improve transparency and accountability in other river basins around the world. All research methodologies explained on the platform. These methods can be learned with training and by accessing publicly available input data and analytical tools. If you would like to provide funding support to the Mekong Dam Monitor or if you are a researcher with interest in applying these analytical methods in other basins or indicators in the Mekong, please contact Brian Eyler at [email protected]
Advisory Board
The Mekong Dam Monitor is governed by an advisory board of hydrologists, remote sensing experts, and area studies experts. The advisory board meets quarterly to review progress and provide advice on platform updates. Advisory board activities are also joined by observers upon invitation by the project team. 
Dr. John Bolten,  Associate Program Manager of Water Resources for the NASA Applied Sciences Program
Jake Brunner, Lead, IUCN Indo-Burma Program
Dr. Rich Cronin, Stimson Center, Distinguished Senior Fellow
Dr. Barrin Magee, Professor of Environmental Studies, William and Hobart Smith College
Dr. Peter-John Maynall, Chief Scientist, ICEM
Steve Nichols, President and Founder, Chino Cienega Foundation 
Dr. Dane Ratliff, Senior Legal Research Fellow at the Center for International Sustainable Development Law
Jocelyn Roberts, US Department of State EAP-Mekong Unit
Dr. John Sabo, Director Future H20, Arizona State University
Dr. Aaron Salzberg, Director, University of North Carolina Chapel Hill Water Institute
Dr. Rafael Schmitt, Post-doctoral Fellow, Stanford University Woods Institute for the Environment
Dr. Jenna Shinen, US Department of State OES-Mekong Water Team
Dr. Jennifer Turner, Director, China Environmental Forum, Wilson Center