Featured Speakers
Representative Jackie Speier, U.S. House of Representatives, representing District 14 in California (Closing Remarks)
Jackie Speier is a fearless fighter for women's equality, LGBTQ rights and the disenfranchised who has dedicated her life to eliminating government corruption, while working to strengthen America's national and economic security. She was named to Newsweek's list of 150 "Fearless Women" in the world and one of "Politico's 50" most influential people in American politics for bringing the Me Too reckoning to Congress. She co-founded and co-chairs the Congressional Unexploded Ordnance/Demining Caucus.
Tim Rieser, Senior Foreign Policy Aide for Senator Leahy, Democratic Clerk of the Senate Appropriations Subcommittee
Tim Rieser graduated from the Putney School, in Putney, VT in 1970, and received his BA in history from Dartmouth College in 1976. He received his JD from the Antioch School of Law in 1979. From 1980-83, Tim worked as a public defender in Barre, VT, and in 1984 spent a year as a teaching assistant under Professor Roger Fisher at the Harvard Law School Negotiation Project. In 1985, Tim began working for U.S. Senator Patrick Leahy (D-Vt.) on judiciary issues, and then shifted to foreign policy in 1987. In 1989, when Senator Leahy became Chairman of the Appropriations Subcommittee on Foreign Operations, Tim joined the Subcommittee as a professional staff member. In 1995, Tim became the Democratic Clerk for what by then was the Subcommittee on the Department of State and Foreign Operations, and has held that position ever since, handling appropriations for the operations of the Department of State and U.S. Agency for International Development, and U.S. foreign assistance programs. Since 1995, Tim has also served as Senator Leahy's senior foreign policy aide.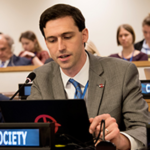 Dr. Matthew Breay Bolton, Associate Professor at Pace University
Dr. Bolton is an associate professor of political science at Pace University in New York City. He has participated in the global campaigns on landmines, cluster munitions, killer robots and the arms trade. Since 2014, Bolton has worked on the UN and New York City advocacy of the International Campaign to Abolish Nuclear Weapons (ICAN), recipient of the 2017 Nobel Peace Prize. He is the author of the recently-released book Political Minefields: The Struggle against Automated Killing.
Craig Hart, Asia Bureau Deputy Assistant Administrator, USAID
Craig Hart is a career member of the Senior Foreign Service and currently serves as the Deputy Assistant Administrator of the Bureau for Asia. Prior to joining the Bureau, he served as the USAID Deputy Mission Director in Vietnam from 2016 to 2020. Prior to this he attended the National War College in Washington, DC and served in various program officer roles for USAID in Tanzania, Afghanistan, Georgia, and Washington D.C. Before joining USAID, Mr. Hart served with the U.S. Peace Corps from 1995-2005. Mr. Hart received a Master's degree in National Security Strategy from the National War College, a Master's degree in Education Administration from the University of Vermont, and a Bachelor's degree in Business Administration from the University of Kentucky.
Sera Koulabdara, Executive Director of Legacies of War (Moderator)
Sera Koulabdara serves as Executive Director of Legacies of War, the leading international U.S.-based educational and advocacy organization working to address the impact of conflict in Laos during the Vietnam War-era, including removal of unexploded ordnance (UXO) and survivor assistance. Prior to this role, Sera was a long time volunteer and served on Legacies' board for 4 years in multiple leadership positions including Vice Chair. Under Sera's leadership, US funding for UXO clearance in Laos reached $40M – the highest level in history and the Legacies of War Recognition and UXO Removal Act was introduced by Senator Baldwin. If approved, this historic bill will recognize the people of Laos, Cambodia and Vietnam who fought alongside American troops during the Vietnam War and authorizes landmark funding of $100M for 5 years divided among the 3 countries of Laos, Cambodia and Vietnam.
Kristen Stevens, Head of Congressional Affairs, the HALO Trust (Moderator
Kristen Stevens joined HALO Trust in 2017 while finishing her Master's in Public Administration at American University in Washington, D.C. Drawing from a background in politics and the non-profit sector, Kristen now leads HALO's advocacy and public policy engagement in the U.S. as Head of Congressional Affairs.
---
This event is supported by the War Legacies Working Group.