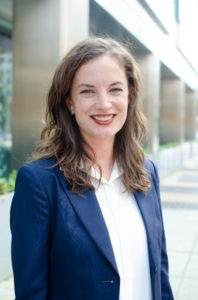 Elizabeth Threlkeld has been named Director of the Stimson Center's South Asia Program, taking on the role after holding the Deputy Director position since 2018. The move comes at a critical moment for the region. For three decades, Stimson's South Asia program has worked to pave the way for a more stable and secure region and mitigate nuclear risks by facilitating critical exchange and open, objective inquiry.
Outgoing program director Sameer Lalwani will take a leave of absence to pursue an opportunity through his recently-awarded 2021-2022 Council on Foreign Relations International Affairs Fellowship. He will remain a Senior Fellow.
Threlkeld is a former State Department diplomat and published scholar with expertise in the geopolitics of Southern Asia, ethno-nationalist conflict, and crisis dynamics. She brings unique experience spanning Asia and the Middle East, including diplomatic postings in Pakistan, sectarian reconciliation programming in Iraq, and work and study in Turkey, China, and Taiwan. Threlkeld holds an MPhil in Politics and International Relations from the University of Cambridge and a B.A. from Swarthmore College. She speaks Pashto, Mandarin, and Spanish. Read her full bio.
Elizabeth Threlkeld, South Asia Program Director, said: "I am honored to build on the South Asia program's remarkable record of research and engagement. The program is one of the largest and longest-standing in DC, and our team is ready to continue this important work at a crucial time in the region."
Brian Finlay, President of the Stimson Center, said: "I join our Board of Directors and staff in congratulating Elizabeth. First launched by our cofounder Michael Krepon and then expanded by Sameer Lalwani, Stimson's South Asia program has a three-decade history of leadership. Elizabeth's selection to continue this work reflects her unique insight and experience and reaffirms Stimson as a center of excellence at a critical moment for the region."
Sameer Lalwani, outgoing program director, said: "Elizabeth has brought skillful leadership to the Stimson Center and proved herself an incisive and thoughtful scholar within Washington's strategic policy community. I am fortunate to have profited so much from her managerial talents and learned so much from her thought-partnership over the past three years. I'm proud to hand the reins of the South Asia Program to Elizabeth, confident she will lead it to new heights, generate cutting-edge research, and foster enhanced strategic thinking and dialogue throughout the region."
Stimson's South Asia program produces policy analysis and academic research on regional strategic trends and geopolitical dynamics in order to inform both policy debates and scholarly work. Much of its work is focused on partnering with the next generation of South Asian analysts and policymakers to build better tools for regional stewardship and enduring relationships for deliberative engagement.
About the Stimson Center
‌The Stimson Center promotes international security, shared prosperity & justice through applied research and independent analysis, deep engagement, and policy innovation.
For three decades, Stimson has been a leading voice on urgent global issues. Founded in the twilight years of the Cold War, the Stimson Center pioneered practical new steps toward stability and security in an uncertain world. Today, as changes in power and technology usher in a challenging new era, Stimson is at the forefront: Engaging new voices, generating innovative ideas and analysis, and building solutions to promote international security, prosperity, and justice.
More at www.stimson.org.